Empowering Professionals through Excellence and Advocacy
We are North Carolina's Licensed Clinical Mental Health Counselors.

Our Mission - Licensed Clinical Counselors serve a vital role in the mental health and wellbeing of North Carolina's citizens. LCCNC works to advance the clinical mental health counseling profession by advocacy and professional excellence. LCCNC provides a voice for public policy, directs the activities of our professional lobbyist, and responds to the continuing education needs of LCMHCs in North Carolina.
Advocacy
LCCNC is the only association in North Carolina that advocates for the licensed clinical mental health counseling profession.
Since 1995, LCCNC has been the main proponent for nearly every legislative and policy initiative in North Carolina. We are proud of the 18 successful advocacy initiatives such as the 2009 LPC Act, First Commitment Evaluation, the Professional Corporations Act, Medicaid, and more.
LCCNC is the only NC organization that retains a professional lobbyist to work on our profession's behalf.
Quick Links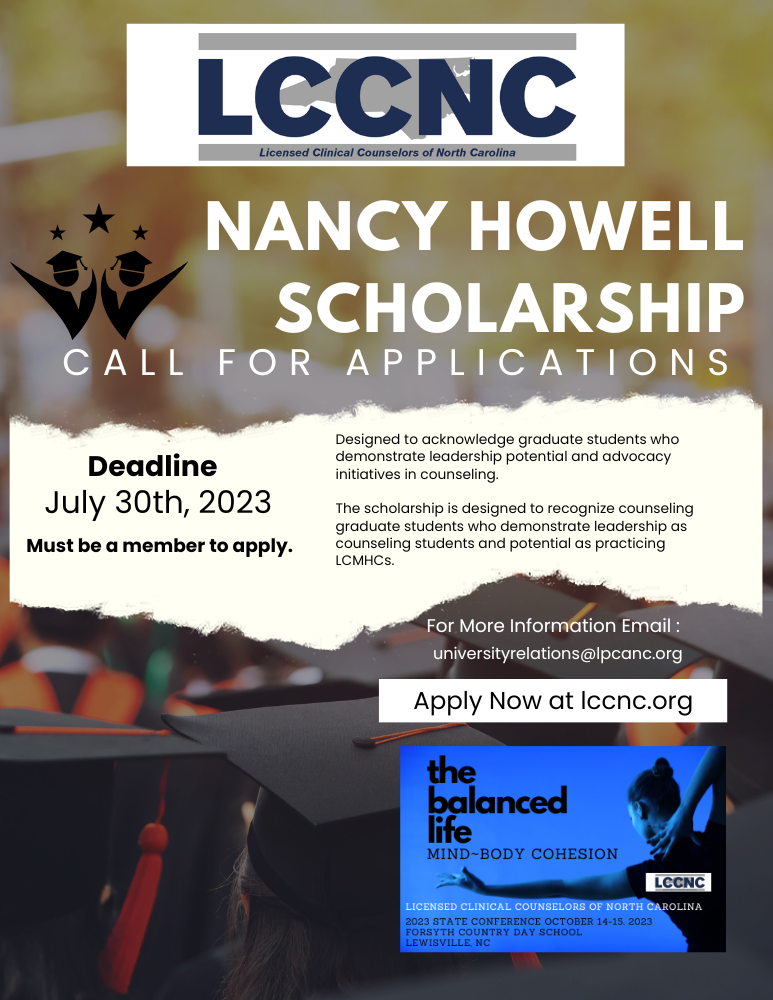 Click Here to Apply to the Nancy Howell Scholarship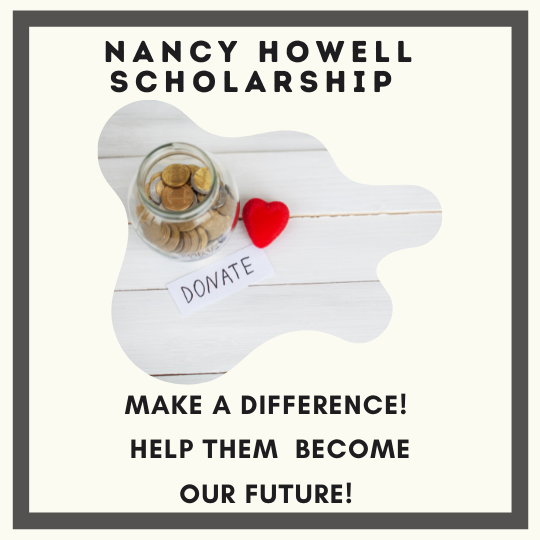 LCCNC is the North Carolina state chapter of the American Mental Health Counselors Association (AMHCA)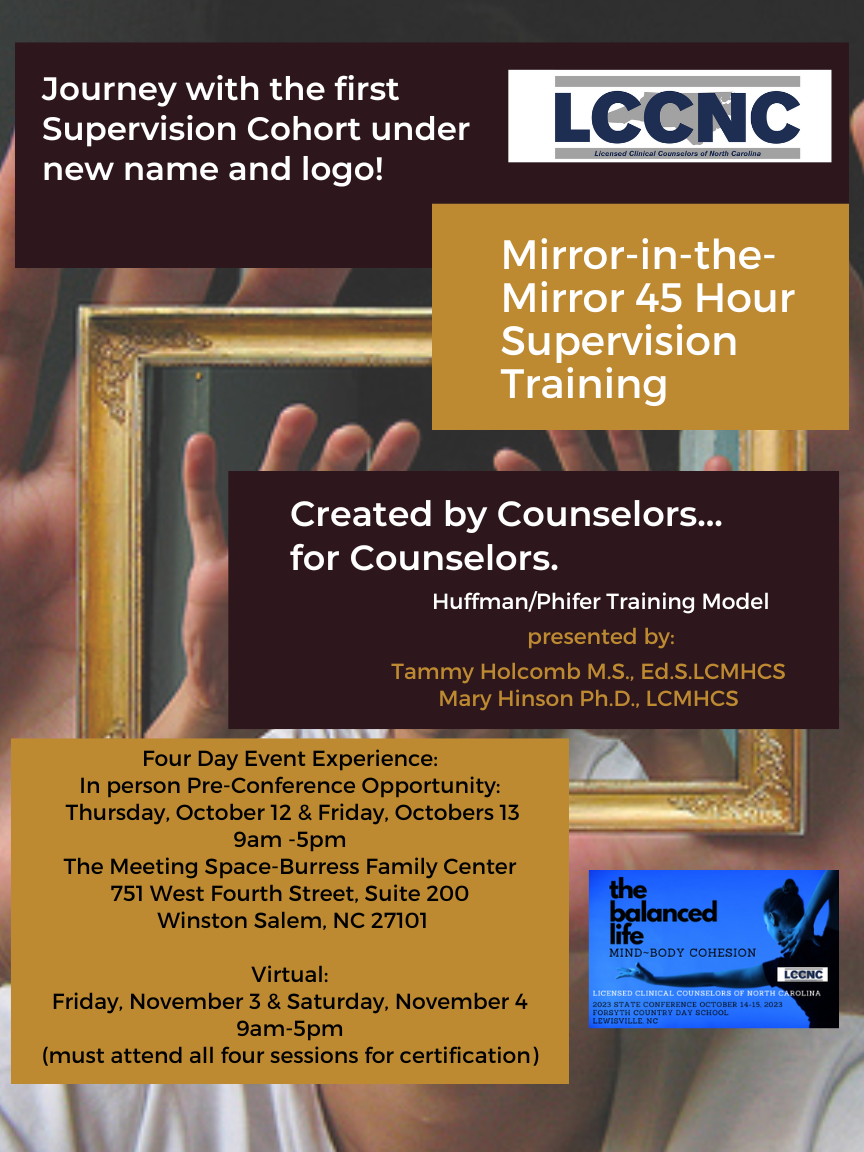 9-8-8 SUICIDE & CRISIS LIFELINE
In 2020, Congress designated 988 to become the national dialing code to reach the National Suicide Prevention Lifeline and to be phased into use as soon as possible. The current National Suicide 10-digit number is 800-273-8255.
On July 16, 2022, the 9-8-8 National Suicide Prevention Lifeline became activated. Nationally, SAMHSA (Substance Abuse and Mental Health Services Administration), coordinated this 988-rollout shortening the Lifeline contact number to only 3-digits - in the same way, 9-1-1 was shortened. This helped to codified the more general emergency services number nationwide more than 40 years ago.
Effective now, both the 988 and the 800- numbers will get callers to the same helpers. The 800-number will continue to function in the short-run and until the 988-number proves to work nationally as planned. If LPCANC members are sharing the 800-number for emergency mental health services currently, you may wish to give the 988-number a few days/weeks to insure it is working as planned before switching to the 988 access.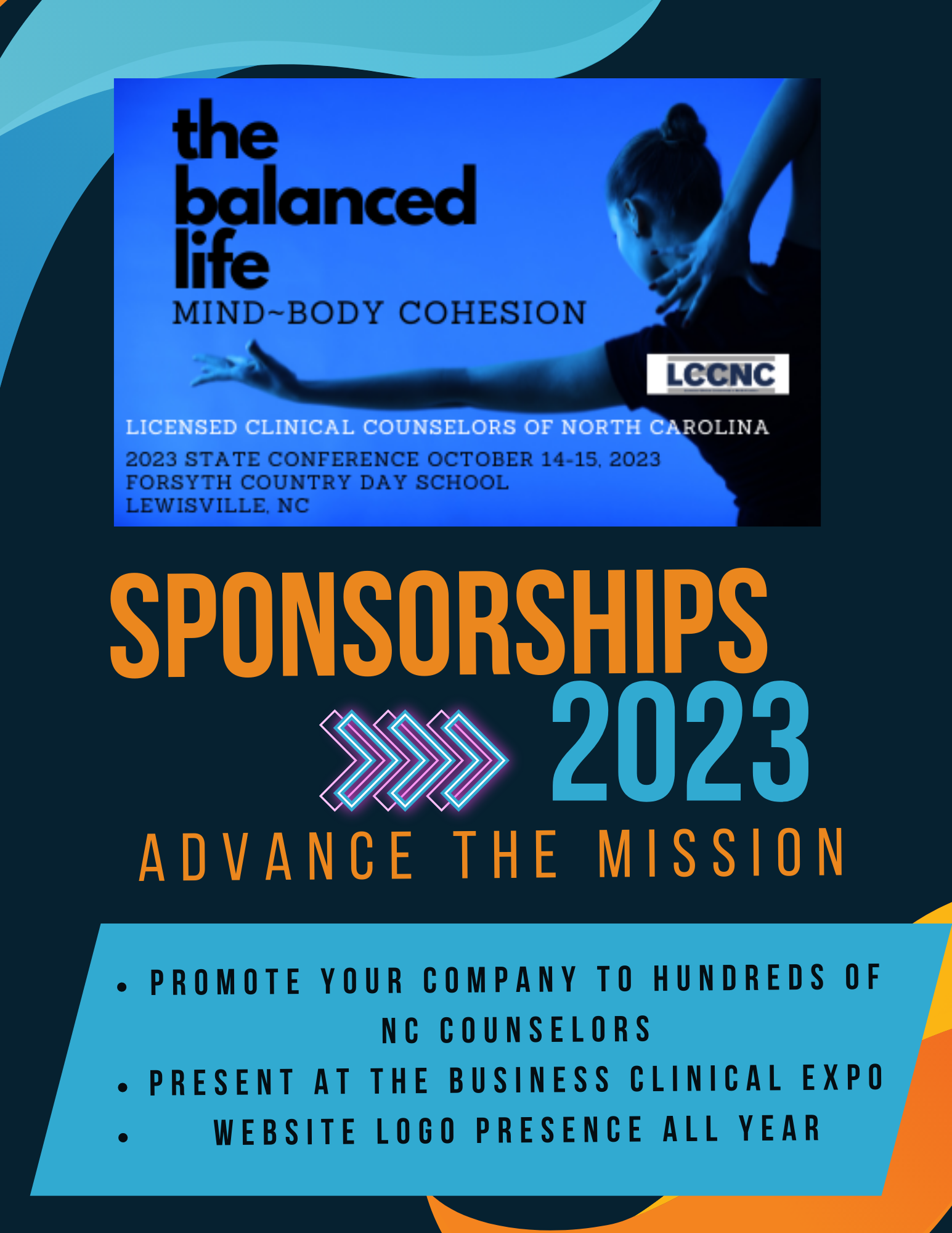 Member Highlights
Welcome Geoffrey Oman, April Fjeld, Judith Ladenberger, Tamara Saraina Williams, Melinda Brinkley, Kisha Norman, and Kailani Ameele.
Thank you for recently joining LCCNC as a Student Member!
Welcome Pam Page Carpenter, Anna Dupont Whalen, Amy Brown, Brittany Littrel, Taylor Robinson, David Schwenk, Daniel Kearns-Pickett, and Kelly Zander.
Thank you for recently joining LCCNC as a New Professional Member!
Welcome Debra Rhodus, Tita Johnson, Deepa Bhatt-Mackin, Randi Konikoff, Dhruti Dholakia, LaTina Edmonds, Justin Harris, Shirley B Huffman, Shannon Warden, Sandra Bennett, Allison Nitschke, Matt Case, Katherine Broadway, Shannon Chamblee, Mary Krenzel, Tara Sessoms, Lenz Graham, Shenae Whitehead, Anita B Wright, Melissa McCurry, Sation Konchellah, Priya Moser, Cynthia Quintero, Rebecca Duncan, Carol Jones, Jailyn Jackson, HarDarshan Khalsa, Mandi Duggan, Delton De Vose, Monique Harris, Catherine Butler, Suzanne Trollan, Jana Lindsay, Kathleen Ellers, Kathleen Fetter, Mark Eades, Jacqueline Aldridge, Patsy Iossi, Eileen Burker, Blaise Morrison, Liz White, and Pamela Hempstead.
Thank you for recently joining LCCNC as a Professional Member!
Welcome Jacqueline Mardis, Rosalie McGrane, Jane Scott, and Ednalyn Hurley.
Thank you for recently joining LCCNC as a Retired Member!
Welcome Krista Etchison, Jennifer Locklear, and Tracey Sosebee.
Thank you for recently joining LCCNC as a Business Member!